How to get here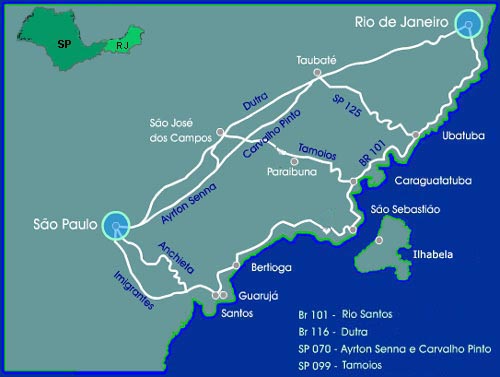 Travelling by car from São Paulo:
There are two ways to get to CEBIMar from São Paulo:
Take Highway Ayrton Senna to Highway Carvalho Pinto and then take Highway Tamoios (SP-99), arriving in Caraguatatuba.
From Caraguatatuba continue to São Sebastião by Highway Dr. Manoel Hypólito do Rego (SP-55) until km 131.5 where CEBIMar is located, shortly after the Balneário dos Trabalhadores (5 km from the city center).
Take the Anchieta / Imigrantes System to Highway Piaçaguera-Guarujá (SP-140), close to Cubatão. Continue to Highway Dr. Manoel Hypólito do Rego (SP-55) to São Sebastião. CEBIMar is about 1 km after Barequeçaba Beach, on km 131.5.

Travelling by bus: The São Sebastião bus station is located 5 km from the CEBIMar. There is a bus that leaves the station heading towards Guaecá. In its path, there is a bus stop right in front of the Centre. Ask the bus driver to stop at the USP Laboratory stop or the CEBIMar stop. Some buses, like the ones coming from Santos, Mogi and São Paulo (via Bertioga), pass in front of CEBIMar before arriving at the station downtown. If this is your case, ask the driver to stop in front of the CEBIMar gate. This is just one stop before the Barequeçaba Beach stop.