Location and opening hours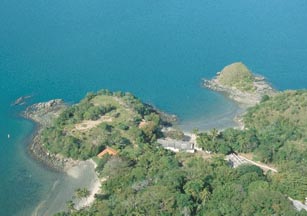 The Centre for Marine Biology (CEBIMar-USP) is located at the south entrance of the São Sebastião Channel, in the State of São Paulo northern coast.

The coastline within the CEBIMar faces São Sebastião Island (Ilha Bela), and includes the Segredo Beach, also known as Cabelo Gordo de Fora Beach, Cabelo Gordo Beach, Baleeiro Head and Jarobá Head.

Sandy beaches, rocky shores and mangrove forests can be reached after a few-minutes ride from car or boat. Smaller islands, within the São Sebastião Channel, can also be easily visited by small boats.
Geographic coordinates:
Praia do Segredo: 23º 49,65'S - 045º 25,36' W
Praia do Cabelo Gordo: 23º 49,58'S - 045º 25,31W
Address:
Rodovia Dr. Manoel Hypólito do Rego, 131,5 km
São Sebastião - SP – Brazil - CEP 11612-109 
Telephone: 55 (12) 3862 8400 - Fax: 55 (12) 3862 8454
e-mail: This email address is being protected from spambots. You need JavaScript enabled to view it.
Office hours:
Monday to Friday, from 8:00AM to 12:00PM and 1:00PM to 5:00PM