CEBIMários
The CEBIMar/USP seminars, locally referred to as "CEBIMários", are a forum of scientific discussion. Outcomes of CEBIMar research projects, project proposals, ideas and paper reviews are always welcome. Visiting researchers are strongly encouraged to participate and share their findings.
CEBIMários take place every other week and are scheduled during lunch break. Usually, seminars should include 15 min presentations followed by discussion. The whole session should not take longer than 1 hour. In some cases, however, talks given upon request may take 30 to 45 minutes.
Also schedule your CEBIMário. If you participate in research projects that receive support from CEBIMar or if you are a visiting faculty/researcher to the Center, you may also schedule your event. To do that, send an email to the CEBIMário coordinator:
The coordinator will check availability and confirm the schedule by including the talk in the calendar of CEBIMários.
Workshop: Taxonomy and Diversity of Marine Meiofauna – Brazil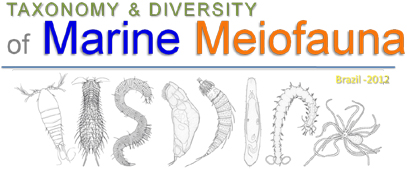 Marine Biodiversity – Special Issue: Diversity of marine meiofauna on the coast of Brazil
 The term meiofauna refers to the benthic organisms retained at a 0.063mm mesh and passing through a 0.5mm mesh. This benthic component comprises at least 25 phyla of the animal kingdom and may reach densities above 106 individuals per square meter. Although extremely diverse and abundant, this group of microscopic organisms has been poorly explored, specially in terms of morphological adaptations and species distribution ranges. One main reason is the lack of expert taxonomists on the different meiofaunal groups. The objective of this workshop is to train young and senior researchers on the different methodologies currently used to study meiofaunal organisms. During the workshop the participants will take part of sampling campaigns in different marine habitats, follow the methodological practices and learn how to identify the different taxa. The final objective is to unravel the diversity of meiofaunal taxa present in the surroundings of the CEBIMar.